Tours in Rotterdam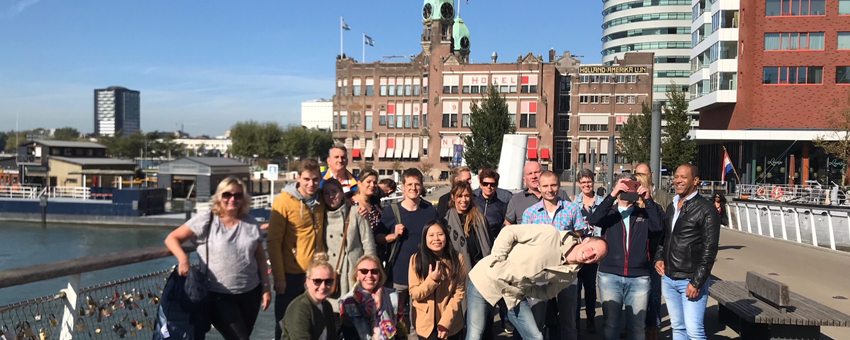 Rotterdamexperience is specialized in tours in Rotterdam for individuals and groups. Both business and leisure. We know every little corner, story and highlight of this exciting city!
First time in Rotterdam? We will show you the icons and most interesting sites. You will come as a stranger and leave as a local! A theme tour? No problem. Architecture, gastronomy, WOII, history, art, Europe's largest port, innovation, city development, urban districts or tailor made to your wishes.
Our local guides are experts in Rotterdam. We organise tours on foot, by bike, boat, Tuk Tuk, step or (touring) car. Almost everything is possible.
A tour in a package deal
Our tours (package deals) in Rotterdam can include accommodation, guided tours, local experience, excursions, events, highlights, (sport) activities, museums, meetings, special locations, food & drinks and much more. Tours Rotterdam can help you make your trip to Rotterdam an experience you'll not forget.
So, if you need something special to add to your itinerary or if you are looking for an interesting and unique tour by a local guide, please feel free to contact us!
Why specialized in Rotterdam?
Rotterdam is our home town and the second-biggest city of the Netherlands and recently named 5th city 'Best in Travel' by Lonely Planet and also must-see city according to The New York Times and Rough Guides. Rotterdam is a young, dynamic metropolis with a boisterous beating heart. A city that continues to renew itself rapidly. At each visit the already impressive skyline has expanded again and you will be surprised by a new cultural or sporting event.
Contact form tours in Rotterdam
For more information or tour requests, please sent an e-mail to info@rotterdamexperience.com, call +31(0)6 498 69 004 or fill out our contact form below.