Local guides Rotterdam and surrounding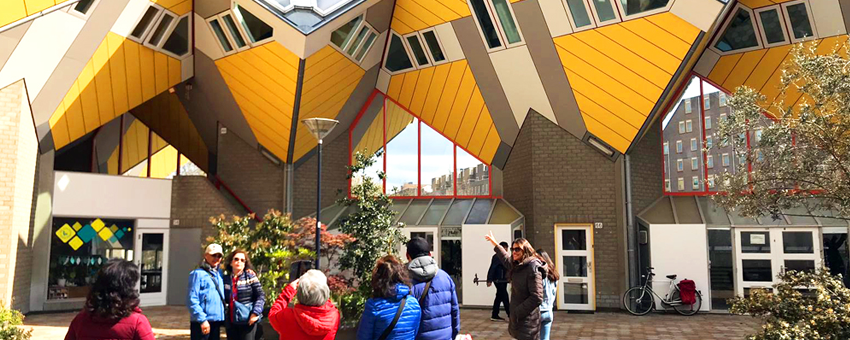 Rotterdamexperience works only with local guides who are experienced and enthusiastic, to offer you the best service and knowledge in Rotterdam and surroundings. Our well trained local guides will be happy to assist and take care of your group during tours to the beautiful, interesting and unique spots in Rotterdam or destinations around like Delft, Schiedam, Dordrecht, Gouda and The Hague. For all other destinations in The Netherlands or Benelux we work together with GO Experience.
From the moment you arrive until you leave back home, our guide can be at your disposal. We speak your language. Dutch, English, French, Spanish, German, Portuguese, Italian, Scandinavian. And if not, we will try to find a guide that will suit your needs.
Rotterdamexperience offers a wide variety of tours. Our most booked tours are Walking tours Rotterdam, Bike tours Rotterdam, Boat tours Rotterdam. But by step, Tuk Tuk or scooter is also an option. Actually almost everything is possible. Let us know your wishes and interests and we will arrange a tailor made tour.

For more information about Tours Rotterdam, click here.
We follow the rules of the government according the COVID-19. At the moment this means small groups, keeping 1,5 meter distance, use a mask in public transport. These rules may change if the situation in The Netherlands change. Always check the measures and restrictions yourself before you start the tour. We are not responsible for our guests to abide by these rules, but our guides can hold guests to account and if they fail to abide by the rules, the guides can ask the person or persons to leave the tour or end the tour without any refund.

For guides in other cities in the Netherlands, Belgium or Luxembourg, please contact our partner GO Experience. Click here.
You can contact us by email info@rotterdamexperience.com, call +31(0)6 498 69 004 or fill out our contact form below.