Tours in Rotterdam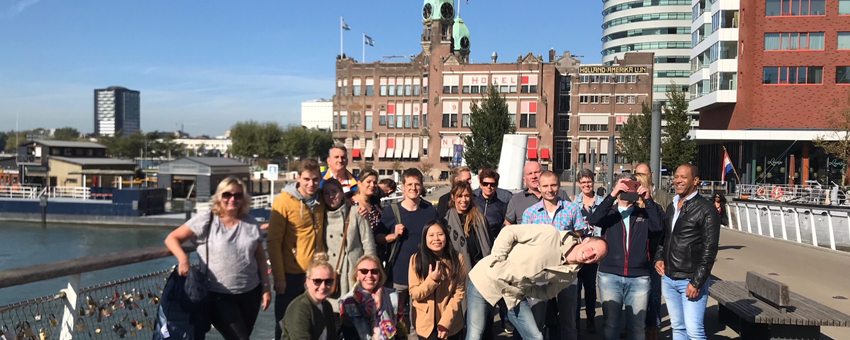 The local guides of Rotterdamexperience can't wait to show you their exciting city and surroundings. Like The Hague, Delft, Schiedam, Gouda, Kinderdijk Windmills or even the Maeslant Storm Surge Barrier. They know every little corner, story and highlight of this interesting area!

You will come as a stranger and leave as a local 😉
A special theme or interest tour? No problem. Architecture, gastronomy, WOII, history, art, street art, culture ('real Rotterdam'), Europe's largest port, innovation, city development, urban districts, sustainability? Rotterdamexperience will organise a tailor made tour according your wishes and interests. On foot, by bike, by boat or even by Tuk Tuk.
Rotterdamexperiene offers a wide variety of walking tours in Rotterdam. Think of highlights, architecture, art, water management, food & drinks, meet the locals, sustainability.
For example during the Achitecture Tour Rotterdam you walk along the world famous architectural sights of the city. Market Hall, Cube Houses, Carpentry House, De Rotterdam and the peninsulas Head of South and Katendrecht with their combination of historical and ultramodern buildings.
See the architecture of a specific neighbourhood, have an architect as your personal guide, or visit the New Institute (museum for architecture, design and digital culture) are among the possibilities.
Stops for drinks and food can be included in all our Walking tours Rotterdam.
During our relaxed bike tours in Rotterdam, we take you along all the sights the city has to offer. Of course we also cycle past the hidden places of the city. You will be surprised about the skyscrapers, the nicknames of images and buildings, the art, the architecture and of course also the history and contemporary developments of this non-stop-renewing metropolis.
Stops for drinks and food can be included in all our Bike tours Rotterdam.
During the tours you can ask our guides anything. They will tell interesting and funny anecdotes. Give you useful tips about good restaurants, trendy nightlife and trendy shopping streets for the remainder of your stay in Rotterdam or to come back again. After a bike tour you have lot's of information and tips to go on a discovery tour yourself.
For more information about the possibilities and prices, please sent an e-mail to info@rotterdamexperience.com, call +31(0)6 498 69 004 or fill out our contact form below.
walking tour Rotterdam, bike tour Rotterdam, boat tour Rotterdam, cycling tour Rotterdam, architecture tour Rotterdam, art tour Rotterdam, food tour Rotterdam, step tour Rotterdam, Tuk Tuk tour Rotterdam, local guide Rotterdam, local guides Rotterdam